Warning
: Undefined variable $post in
/home/performi/public_html/wp-content/themes/lagunita-theme/Lagunita.php
on line
124
Warning
: Attempt to read property "ID" on null in
/home/performi/public_html/wp-content/themes/lagunita-theme/Lagunita.php
on line
124
The Conference
The conference itself will be a series of open discussions, using Open Space Technology on Zoom. Participants will determine a list of topics, and those topics will become the headings for breakout rooms. Participants can move between breakout rooms as they desire. Within each breakout room, the convener will be strongly urged to ensure that a reasonable record of the discussion in the group is prepared, using Google Docs.

There will be a standard format for each breakout room:
1. Title,
2. Convener,
3. List of Participants,
4. Discussion and recommendations.
Daily Schedule (all times Pacific Standard Time)
09:00 – 10:30 AM: Opening (Agenda Creation)
10:30 – 12:00 AM: Session I
12:00 – 1:30: Lunch
1:30 – 3:00 Session II
3:00 – 4:00 Closing
Speaker Schedule:
June 3: Joanna Garner (9:30AM) (PST)
June 4: Adrienne Mackey (9:30AM) (PST)
June 5: Heidi Boisvert (9:30AM) (PST)
June 5: LAM Sisterhood 12:OOPM (PST)
Speaker BIOS
Joanna Garner is the Senior Story Creative Director for Meow Wolf, where she guides the overall worldbuilding and storytelling strategy for the company's story universe. As a playwright and immersive theater maker, her work has been developed nationally and internationally, including at the Banff Centre, the Finnish National Opera, Bumbershoot Festival, the New York and Hollywood fringe festivals, and with Austin's acclaimed Rude Mechs. Seattle Repertory Theatre recently commissioned Joanna for a new play with music (and coyotes). Throughout her career, she has crafted stories and experiences for companies like Nike, Nordstrom, and the Bill and Melinda Gates Foundation, and spent eight years as a music critic for the Seattle Times. She's given talks and led workshops about the future of storytelling for Facebook, Breckenridge Film Festival, Storyworld 3.0, and the RealTime Conference, among others. She has an MFA in Playwriting from the University of Texas at Austin.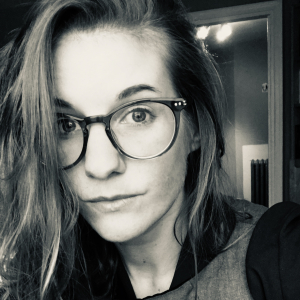 Adrienne Mackey is a multidisciplinary artist who explores the potential of performance and play. With her company, Swim Pony, she's created works including SURVIVE!, a 22,000 sq-ft interactive science installation; The Ballad of Joe Hill, a production incorporating song, storytelling, and movement to convey the events surrounding the life of the eponymous labor organizer and staged at the historic Eastern State Penitentiary in Philadelphia; War of the Worlds, an innovative mixture of site-specific live performance and games with Drexel University's Entrepreneurial Game Studio; The End, a month-long mixed reality game exploring fears about mortality; and TrailOff, a mobile app using GPS to embed stories on Pennsylvania nature trails. Mackey is an Independence Foundation Fellowship awardee and, with Swim Pony, a two-time recipient of the Knight Arts Challenge grant in Philadelphia. She is the originator of CROSS POLLINATION, a residency program in which 32 artists took part in documented interdisciplinary collaborations and she also writes for Swim Pony's blog, which boasts over 50,000 views to date. Mackey holds an MFA in game/theater from Goddard College, is a classically trained soprano, and former chemist. www.swimpony.org