Registration and Attendees
To sign up for this conference, please use the following link:
https://stanford.zoom.us/meeting/register/tJcscuGorzwjHt18uXgCLh1Da1Id1s8DOXW6
Please note that this is a Three Day Conference, you can choose to attend any or all of the three days of conference. However, because this conference depends on the participation of the attendees, there is no prior agenda. The discussion topics will be set each morning on an open "Topic Board" and participants can move between breakout rooms to discuss the topics.
Please come prepared to discuss and make connections.

Each day is devoted to a different aspect of Digital Performing Arts.
June 3: Aesthetics , June 4: Industry, June 5: Education
Daily Schedule (all times PST)
09:00 – 10:30 AM: Opening (Agenda Creation)
10:30 – 12:00 AM: Session I
12:00 – 1:30: Lunch
1:30 – 3:00 Session II
3:00 – 4:00 Closing
Speaker Schedule:
June 3: Joanna Garner (9:30AM) (PST)
June 4: Adrienne Mackey (9:30AM) (PST)
June 5: Heidi Boisvert (9:30AM) (PST)
June 5: LAM Sisterhood 12:OOPM (PST)
The Conference is free and open.
Thanks to an Arts Incubator grant from the Vice President of the Arts, this conference is open to all participants.
Speaker Bios
Joanna Garner is the Senior Story Creative Director for Meow Wolf, where she guides the overall worldbuilding and storytelling strategy for the company's story universe. As a playwright and immersive theater maker, her work has been developed nationally and internationally, including at the Banff Centre, the Finnish National Opera, Bumbershoot Festival, the New York and Hollywood fringe festivals, and with Austin's acclaimed Rude Mechs. Seattle Repertory Theatre recently commissioned Joanna for a new play with music (and coyotes). Throughout her career, she has crafted stories and experiences for companies like Nike, Nordstrom, and the Bill and Melinda Gates Foundation, and spent eight years as a music critic for the Seattle Times. She's given talks and led workshops about the future of storytelling for Facebook, Breckenridge Film Festival, Storyworld 3.0, and the RealTime Conference, among others. She has an MFA in Playwriting from the University of Texas at Austin.
The LAM Sisterhood is a content studio that fills the world with stories for African women to feel seen, heard and beloved. Founded by three African feminist storytellers, their international award-winning and nominated works span multiple disciplines including film, stage, audio storytelling and experiential theatre. They are currently developing the Brazen Universe where they tell the life stories of extraordinary African women who've shaped the world.
Heidi Boisvert (PhD) is an interdisciplinary artist, experience designer, creative technologist, and academic researcher who interrogates the neurobiological and socio-cultural effects of media and technology. Simply put, she studies the role of the body, the senses, and emotion in human perception and social change. Boisvert is currently mapping the world's first media genome, while taking great care with its far-reaching ethical implications. She founded futurePerfect lab, a creative agency and think-tank that works with social justice organizations to design playful emerging media campaigns to transform the public imagination. She also co-founded XTH, a company creating novel modes of expression through biotechnology and the human body. Presently, she is working with David Byrne on Theater of the Mind, a new immersive theater piece. Boisvert is an Assistant Professor of AI & the Arts at the University of Florida. She is also a Senior Research Fellow at the Norman Lear Center, a research affiliate in the Open Documentary Lab at MIT and a member of NEW INC's Creative Science track.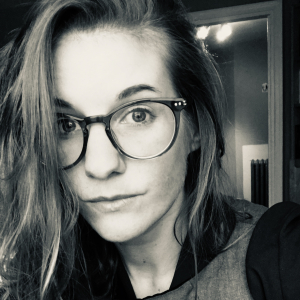 Adrienne Mackey is a multidisciplinary artist who explores the potential of performance and play. With her company, Swim Pony, she's created works including SURVIVE!, a 22,000 sq-ft interactive science installation; The Ballad of Joe Hill, a production incorporating song, storytelling, and movement to convey the events surrounding the life of the eponymous labor organizer and staged at the historic Eastern State Penitentiary in Philadelphia; War of the Worlds, an innovative mixture of site-specific live performance and games with Drexel University's Entrepreneurial Game Studio; The End, a month-long mixed reality game exploring fears about mortality; and TrailOff, a mobile app using GPS to embed stories on Pennsylvania nature trails. Mackey is an Independence Foundation Fellowship awardee and, with Swim Pony, a two-time recipient of the Knight Arts Challenge grant in Philadelphia. She is the originator of CROSS POLLINATION, a residency program in which 32 artists took part in documented interdisciplinary collaborations and she also writes for Swim Pony's blog, which boasts over 50,000 views to date. Mackey holds an MFA in game/theater from Goddard College, is a classically trained soprano, and former chemist.